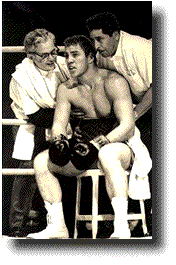 The ledger to the right lists high quality fighters in purple and fights with the heavyweights of the 70's in black. The links in black on the fighters names are links to information from the fight itself, the feeling before the fight and the fight as I saw it. If the fighter lost a certain fight four asterisks will be in the last column(****). If a result of a fight is linked in black then that fighters record is available in the records database.
Jerry Quarry is called by some the best heavyweight to never win a world title. He was durable and rugged and had a good punch and great chin. His one flaw was cuts, which stopped some of his fights and hurt him in others. Jerry had a good left hook and was a good body puncher and smart defensive fighter. Quarry began his career in 1965 winning a decision against Gene Hamilton in Los Angeles. This was the start of a great streak that saw Jerry at 12-0 going into his first fight against Tony Doyle. Doyle was a tough, quality fighter and their first fight ended in a a draw. Jerry then took on Tony Alongi twice and George (Scrapiron) Johnson in his next four fights. He ko'd Johnson in 2 and had two draws against Alongi to put his record at 17-0-3 going into his fight against Eddie Machen. Machen handed Quarry his first pro defeat and Jerry took off 3 months to compose himself. After this Jerry went on another streak. He defeated Brian London, Billy Daniels and Alex Miteff among others. He also fought Floyd Patterson twice. The first fight ended in a ten round draw, the second gave Quarry his biggest win to date, a 12 round decision over the former champ Patterson. He then took on the number one challenger Thad Spencer, Quarry took Spencer out in the 12th round to get the number one contender position. In April 1968, Quarry would get his one and only world title shot losing the fight to Jimmy Ellis. More on that fight can be learned by clicking the link to the right that says Jimmy Ellis. After the loss Quarry won his next 5 fights against the likes of Charlie Reno and Buster Mathis. This put him in line to fight for the NY State title against undefeated Joe Frazier. This was a great fight with fireworks from both sides. Quarry eventually wore out in the 7th and was stopped. Quarry was still a hot property and did nothing to diminish this rep in taking out Brain London in 2 rounds. His next opponent was the tough Canadian champ George Chuvalo. Chuvalo stopped Quarry in the 7th round in a mild upset. This left Quarry's record at 33-4-4. He was at a cross roads and delivered by winning his next 4 fights. He beat George Johnson again and also beat Mac Foster. Quarry then took on Muhammad Ali and was cut badly and stopped in the 3rd round. This was Ali's first fight back after 3 years and a fight Quarry thought he could win, cutting was Quarry's worst enemy. After the loss to Ali, Quarry once again had to rebuild. He beat Tony Doyle 6 years after they first met and beat Larry Middleton as well in a 6 fight win streak. A return match didn't fare any better for Quarry however with Ali as he was whipped in 7 rounds. One of the best periods in Quarry's career was on the horizon. In a 6 fight win streak he beat the hard punching Ron Lyle in a 12 round decision and shocked the country in blasting the bomber Earnie Shavers in one fierce round. Quarry was not a quitter, and when people thought he was down was when he put on his best performances. In Quarry's last 5 fights of the 70's he lost to Ken Norton and Joe Frazier in 5 round Knockout losses. He came back for 3 fights in the 80's and 90's but that wasn't the same Jerry Quarry that was the best heavyweight to never win a title. "Irish" Jerry Quarry rest in peace.
Vs 1991 Evander Holyfield-This would be a war for 6 or 7 rounds, but Jerry's eyes would get the best of him again and Holyfield would be victorious on a stoppage. This would be a fight for the videotape because these are about as tough of guys as you could put in a ring. Prediction-Holyfield TKO in 9
Vs 1988 Mike Tyson-Tyson would throw bombs but how many he would land would determine how effective Jerry was in getting off his own left hook on the inside. I see this fight lasting the distance with Quarry making a failed comeback late. Prediction-Tyson by Unanimous Decision
Vs 1999 Lennox Lewis-Quarry would find this big guy tough to hit, but Lewis' jab would be countered well by Quarry's body punching. I think Quarry would stay busy throughout the fight and steal some close rounds. Prediction-Quarry by Split Decision

(1-10 skill rating, ten being the best)
Power-7
Hand Speed-7
Chin-9
Footwork-7
Heart-9
Endurance-6
Defense-6
Intangibles(smarts,finishing,getting out of trouble,Cuts)-5
TOTAL-56 rated a B+ fighter.
---

A+ = 65 or higher-All Time Top 10 All weights
A = 59-64-Top 10 All Time Heavy
A- = 57-58-Top 20 All Time Heavy
B+ = 55-56-Great star any period
B = 49-54-star any period
B- = 47-48-minor star any period
C+ = 41-46-Good Fighter any period
Career Record
| | | | | |
| --- | --- | --- | --- | --- |
| Date | Opponent | City-Title | Result | Record |
| May 7,1965 | G.Hamilton | Los Angeles | W-Dec 4 | 1-0 |
| June 4,1965 | J.H Jackson | Los Angeles | KO 4 | 2-0 |
| June 17,1965 | L.Holmberg | Los Angeles | W-Dec 6 | 3-0 |
| June 25,1965 | D.Centi | Los Angeles | W-Dec 6 | 4-0 |
| July 16,1965 | W.Davis | Los Angeles | KO 3 | 5-0 |
| July 29,1965 | R.Ellis | Los Angleles | W-Dec 6 | 6-0 |
| Aug 9,1965 | J.H Jackson | Kansas City | KO 4 | 7-0 |
| Aug 27,1965 | J.P Spencer | Los Angeles | KO 4 | 8-0 |
| Sept 24,1965 | R.Ellis | Los Angeles | KO 3 | 9-0 |
| Oct 13,1965 | M.Manley | Kansas City | KO 1 | 10-0 |
| Oct 29,1965 | A.Carter | Los Angeles | KO 6 | 11-0 |
| Nov 2,1965 | R.Crear | San Antonio | KO 3 | 12-0 |
| Nov 11,1965 | T.Doyle | Los Angeles | D-10 | 12-0-1 |
| Dec 24,1965 | R.Crear | Los Angeles | KO 3 | 13-0-1 |
| Feb 3,1966 | E.Land | Las Vegas | W-Dec 8 | 14-0-1 |
| Feb 17,1966 | P.Snipes | Los Angeles | KO 5 | 15-0-1 |
| Mar 4,1966 | T.Alongi | New York | D-10 | 15-0-2 |
| Apr 7,1966 | G.Johnson | Los Angeles | KO 2 | 16-0-2 |
| May 2, 1966 | A.Jones | Kansas City | W-Dec 10 | 17-0-2 |
| May 28,1966 | T.Alongi | Los Angeles | D-10 | 17-0-3 |
| July 15,1966 | E.Machen | Los Angeles | L-By Dec 10 | 17-1-3 **** |
| Oct 20,1966 | B.Nielsen | Los Angeles | W-Dec 10 | 18-1-3 |
| Nov 29,1966 | L.Borden | Los Angeles | KO 5 | 19-1-3 |
| Dec 15,1966 | J.Orbillo | Los Angeles | W-Dec 10 | 20-1-3 |
| Jan 11,1967 | A.Jones | San Fran | KO 5 | 21-1-3 |
| Mar 9,1967 | B.London | Los Angeles | W-Dec 10 | 22-1-3 |
| Apr 27,1967 | A.Miteff | Los Angeles | KO 3 | 23-1-3 |
| June 9,1967 | F.Patterson | Los Angeles | D-10 | 23-1-4 |
| Sept 15,1967 | B.Daniels | Los Angeles | KO 1 | 24-1-4 |
| Oct 28,1967 | F.Patterson | Los Angeles | W-Dec 12 | 25-1-4 |
| Feb 3,1968 | T.Spencer | Oakland | KO 12 | 26-1-4 |
| Apr 27,1968 | Jimmy Ellis | (World) | L-By Dec 15 | 26-2-4 **** |
| Nov 11,1968 | B.Mumford | Phoenix | KO 5 | 27-2-4 |
| Nov 19,1968 | W.Earls | San Antonio | W-Dec 10 | 28-2-4 |
| Jan 10,1969 | C.Reno | Seattle | KO 5 | 29-2-4 |
| Jan 26,1969 | A.Eastling | Canton, OH | KO 5 | 30-2-4 |
| Mar 24,1969 | B.Mathis | New York | W-Dec 12 | 31-2-4 |
| June 23,1969 | Joe Frazier | (NYS Title) | L-By Ko 7 | 31-3-4 **** |
| Aug 11,1969 | J.Carroll | St.Paul,MN | KO 1 | 32-3-4 |
| Sept 3,1969 | B.London | Oakland | KO 2 | 33-3-4 |
| Dec 12,1969 | G.Chuvalo | New York | L-By Ko 7 | 33-4-4 **** |
| Mar 3,1970 | R.Brassell | Miami | KO 2 | 34-4-4 |
| Mar 19,1970 | G.Johnson | Los Angeles | W-Dec 10 | 35-4-4 |
| June 17,1970 | M.Foster | New York | KO 6 | 36-4-4 |
| Sept 8,1970 | S.Harris | Miami | KO 6 | 37-4-4 |
| Oct 26,1970 | Muhammad Ali | Atlanta | L-By Ko 3 | 37-5-4 **** |
| June 18,1971 | R.Gosha | Seattle | W-Dec 10 | 38-5-4 |
| | | | | |
| --- | --- | --- | --- | --- |
| July 24,1971 | T.Doyle | Geneva,WI | W-Dec 10 | 39-5-4 |
| Nov 16,1971 | J.Bodell | London | KO 1 | 40-5-4 |
| Dec 2,1971 | L.Bailey | Des Moines | W-Dec 10 | 41-5-4 |
| Apr 17,1972 | E.Corletti | Los Angeles | KO 1 | 42-5-4 |
| May 9,1972 | L.Middleton | London | W-Dec 10 | 43-5-4 |
| June 27,1972 | Muhammad Ali | Las Vegas | L-By Ko 7 | 43-6-4 **** |
| Jan 5,1973 | R.Neumann | New York | KO 7 | 44-6-4 |
| Feb 9,1973 | Ron Lyle | New York | W-Dec 12 | 45-6-4 |
| Aug 31,1973 | J.Woody | Las Vegas | KO 2 | 46-6-4 |
| Sept 10,1973 | T.Doyle | Los Angeles | KO 4 | 47-6-4 |
| Dec 14,1973 | Earnie Shavers | New York | KO 1 | 48-6-4 |
| May 8,1974 | J.Alexander | New York | KO 2 | 49-6-4 |
| June 17,1974 | Joe Frazier | New York | L-By Ko 5 | 49-7-4 **** |
| Feb 25,1974 | G.Johnson | Honolulu | W-Dec 10 | 50-7-4 |
| Mar 24,1974 | Ken Norton | New York | L-By Ko 5 | 50-8-4 **** |
| Nov 5,1976 | L.Zanon | Las Vegas | KO 9 | 51-8-4 |
| Aug 31,1983 | L.Guerra | Albuquerque | KO 1 | 52-8-4 |
| Nov 21,1983 | J.Williams | Bakersfield | W 10 | 53-8-4 |
| Oct 30, 1992 | R.Cramner | Wisconsin | L-By Dec 6 | 53-9-4 **** |
| | | | | |
| | | | | |
| | | | | |
| | | | | |
| | | | | |
| | | | | |
| | | | | |
| | | | | |
| | | | | |
| | | | | |
| | | | | |
| | | | | |
| | | | | |
| | | | | |
| | | | | |
| | | | | |
| | | | | |
| | | | | |
| | | | | |
| | | | | |
| | | | | |