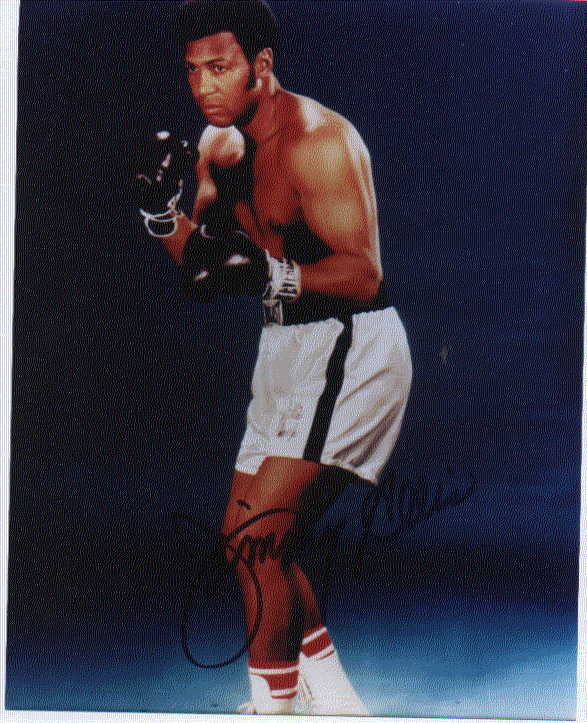 The ledger to the right lists high quality fighters in green and fights with the heavyweights of the 70's in blue. The links in blue on the fighters names are links to information from the fight itself, the feeling before the fight and the fight as I saw it. If the fighter lost a certain fight four asterisks will be in the last column(****). If a result of a fight is linked in bluethen that fighters record is available in the records database.
Jimmy Ellis was a good fighter with a nice combination of punches, although he lacked big power. He was also pretty quick and smart in the ring. Ellis' career started in 1961 against Arley Safer in Ellis hometown of Louisville, Kentucky. Ellis won by Ko in the third round to get his career started on the right track. Ellis early career record wasn't sparkling, he had a 14-5 record after losing to future trainer George Benton in 1964. Ellis soon after had his tonsils removed and moved from middleweight to heavyweight after gaining 25 or 30 pounds. At this point an exhibition tour with Muhammad Ali taught young Ellis a couple things and the most productive part of his career was soon starting. He beat tough Chuck Leslie over 10 rounds and beat Billy Daniels over 6 rounds to put his record at (19-5). Three more wins propelled Jimmy into a WBA eliminator fight against Leotis Martin. Ellis knocked Martin out in the 9th round which set him up for another eliminator bout against Oscar Bonavena. Ellis won a good 12 round decision over Bonavena to get a title shot against Jerry Quarry. For more on the Quarry fight click the link to the right that says Jerry Quarry. After winning the title, Ellis took on former world champ Floyd Patterson. Ellis took a very controversial decision from Patterson to hold on to the title. Having the title Ellis took 1969 off before fighting undefeated Joe Frazier in early 1970. For more on Frazier vs Ellis click on the Joe Frazier link. After losing the title, Jimmy beat tough guys Tony Doyle and Gorge Chuvalo to get a shot at the vacant NABF championship against old friend Muhammad Ali. Ali beat Ellis with a 12th round knockout that set Ellis off to start another wining streak. Against average competition, highlighted by Harold Carter, Ellis won 8 fights in a row to set up a clash with top prospect Earnie Shavers. Shavers KO'd Ellis in one round to set Ellis on a tailspin to finish his career. Ellis was (2-4-1) in his last 7 fights to finish his career. After a win against Memphis Al Jones, Ellis lost his next fight to Boone Kirkman. Ellis then drew with Larry Middleton before losing a decision to Ron Lyle in mid 1974. Jimmy then lost to Joe Bugner and Joe Frazier to end 1974. Frazier knocked Ellis out in 9 rounds, but not wanting to finish on a sour note, Ellis came back and beat to beat Carl Baker in a one round knockout to finish his career. Jimmy Ellis was a fine champion who did battle with some of the best fighters ever.
Vs 1991 Evander Holyfield-Holyfield was faster and a better puncher then Ellis and these two things put together give Holyfield a lead. The second half of the fight goes in the same manner with Ellis being outpointed.Prediction- Holyfield Unanimous Decision
Vs 1988 Mike Tyson-Tyson would come right after Ellis and knock him down early before Jimmy could get started. Ellis would have a couple rounds where he holds his own but then get caught again and knocked out. Prediction- Tyson KO in 5
Vs 1999 Lennox Lewis-Lewis would deliver some strong combinations early followed by some strong punches from Ellis, the big Lewis' size would eventually wear on Ellis and slow him down considerably in the middle rounds. Lewis would pick up steam and deliver a knockout in the second half of the fight.Prediction- Lewis KO in 8


(1-10 skill rating, ten being the best)
Power-6
Hand Speed-8
Chin-6
Footwork-7
Heart-7
Endurance-6
Defense-8
Intangibles(smarts,finishing,getting out of trouble,Cuts)-6
TOTAL-54 rated a B fighter.
---

A+ = 65 or higher-All Time Top 10 All weights
A = 59-64-Top 10 All Time Heavy
A- = 57-58-Top 20 All Time Heavy
B+ = 55-56-Great star any period
B = 49-54-star any period
B- = 47-48-minor star any period
C+ = 41-46-Good Fighter any period
Career Record
| | | | | |
| --- | --- | --- | --- | --- |
| Date | Opponent | City-Title | Result | Record |
| Apr 19,1961 | A.Seifer | Louisville | KO 3 | 1-0 |
| May 6,1961 | G.Leslie | Louisville | W-Dec 8 | 2-0 |
| July 22,1961 | J.Morris | Louisville | W-Dec 6 | 3-0 |
| Aug 22,1961 | W.Gleaves | Louisville | W-Dec 10 | 4-0 |
| Oct 7,1961 | C.Riley | Louisville | KO 2 | 5-0 |
| Nov 29,1961 | H.Mims | Louisville | L-By Dec 10 | 5-1 **** |
| Jan 11,1962 | R.Calhoun | Louisville | KO 1 | 6-1 |
| Feb 17,1962 | J.Alford | New York | W-Dec 6 | 7-1 |
| May 4,1962 | H.Mims | Louisville | W-Dec 10 | 8-1 |
| June 7,1962 | R.Bent | Louisville | KO 2 | 9-1 |
| June 13,1962 | C.Glover | Lexington | W-Dec 4 | 10-1 |
| June 13,1962 | S.Poe | Lexington | W-Dec 4 | 11-1 |
| Sept 1,1962 | H.Hank | Louisville | L-By Dec 10 | 11-2 **** |
| Dec 3,1962 | L.Green | Louisville | W-Dec 10 | 12-2 |
| June 18,1963 | J.Halafihl | London | KO 1 | 13-2 |
| Sept 27,1963 | L.Guiterrez | Louisville | W-Dec 10 | 14-2 |
| Feb 28,1964 | R.Carter | New York | L-By Dec 10 | 14-3 **** |
| Apr 21,1964 | J.Spencer | Lexington | KO 1 | 15-3 |
| Oct 21,1964 | D.Fullmer | Louisville | L-By Dec 10 | 14-4 **** |
| Nov 30,1964 | G.Benton | Philly | L-By Dec 10 | 14-5 **** |
| May 25,1965 | J.Blackwood | Lewiston,ME | KO 1 | 15-5 |
| Nov 15,1965 | C.Leslie | Las Vegas | W-Dec 10 | 16-5 |
| Mar 29,1966 | H.Hilton | Toronto | W-Dec 8 | 17-5 |
| May 21,1966 | L.Waqua | London | KO 1 | 18-5 |
| Sept 10,1966 | B.Daniels | Frankfurt | W-Dec 6 | 19-5 |
| Oct 27,1966 | E.Embry | Louisville | KO 1 | 20-5 |
| Nov 14,1966 | T.Sims | Houston | KO 1 | 21-5 |
| Mar 22,1967 | J.Persol | New York | KO 1 | 22-5 |
| Aug 5,1967 | L.Martin | (Elim) | KO 9 | 23-5 |
| Dec 2,1967 | O.Bonavena | (Elim) | W-Dec 12 | 24-5 |
| Apr 27,1968 | Jerry Quarry | (World) | W-Dec 15 | 25-5 |
| Sept 14,1968 | F.Patterson | (World) | W-Dec 15 | 26-5 |
| Feb 16,1970 | Joe Frazier | (World) | L-By Ko 5 | 26-6 **** |
| Nov 10,1970 | R.Davila | Miami | KO 7 | 27-6 |
| Mar 2,1971 | T.Doyle | Miami | KO 10 | 28-6 |
| May 10,1971 | G.Chuvalo | Toronto | W-Dec 10 | 29-6 |
| July 26,1971 | Muhammad Ali | (NABF) | L-By Ko 12 | 29-7 **** |
| May 16,1972 | R.Gosha | Seattle | KO 6 | 30-7 |
| June 16,1972 | R.Brooks | Miami | KO 2 | 31-7 |
| Sept 21,1972 | O.Wilson | Parma,OH | KO 5 | 32-7 |
| Oct 26,1972 | H.Carter | Beckley,WV | KO 7 | 33-7 |
| Feb 21,1973 | B.Felstein | Orlando | KO 2 | 34-7 |
| Mar 6,1973 | C.Harris | Miami | KO 1 | 35-7 |
| Apr 15,1973 | J.Harris | Huntington | KO 2 | 36-7 |
| May 6,1973 | R.Brooks | Phoenix | KO 5 | 37-7 |
| June 18,1973 | Earnie Shavers | New York | L-By Ko 1 | 37-8 **** |
| Oct 23,1973 | A.Jones | Atlanta | KO 7 | 38-8 |
| Dec 12,1973 | B.Kirkman | Seattle | L-By Dec 10 | 38-9 **** |