Ali Vs Ellis-July 26th, 1971 Houston
Muhammad Ali and Jimmy Ellis were set to fight for the vacant NABF title, but that wasn't the main plot line. Angelo Dundee had been both fighters corner man since the start of their careers. Ellis and Ali were friends and had sparred together numerous times in the mid 60's when Ali was the champ and Ellis was a prospect, although Ellis was two years older at the time. Dundee had been with Ellis a bit longer and decided to stay in his corner for the fight while one of the other trainers went and worked with Ali. This was a lose, lose position for Dundee has one of his heavyweight stars was going to get a loss on his record and sink in the rankings. Ellis was coming off three straight impressive wins over Roberto Davila, Tony Doyle and iron chinned George Chuvalo. Ellis had a record of 29-6 going into the fight with his former sparring partner. Ali was coming off his first loss of his career, the first fight with Joe Frazier. Ali was stepping right back into the bigtime with accepting the fight with the tough Ellis. Ali was very confident and sported a record of 31-1 coming into this contest. Let's see if Angelo Dundee picked the right fighter to train for this fight.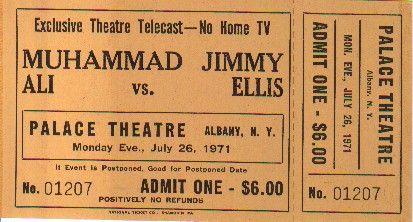 Here's the fight as I saw it.-Green are the round scores as I scored it, red is important text like a cut, great punch or knockdown.

Round 1- Ali start out with his trademark shuffle, nice jabs early from Ali. Close early action from these two. Ellis comes in and lands a combination near the end of the round. Close Round.
Even Round- 10-10

Round 2- Ali on his bicycle again. Solid right from Ali, Ellis holds. Nice jabs from Ellis, but Ali is controlling the ring with his movement. Close round but Ali more bust to steal it.
Ali's Round- 10-9 (20-19) Ali

Round 3- Ellis to the body early in the round. Stiff jabs from Ellis. Ellis with a nice hook, Ellis doing well here and wins the round. Ellis Round- 10-9 (29-29) Even

Round 4- Ali moves, the fighters exchange jabs. Ali has Ellis stunned with some combinations. Ellis lands a good right and Ali stops punching. Ali is more effective this round.
Ali's Round- 10-9 (39-38) Ali

Round 5- Ali on his toes and is jabbing well to start the round. Action has slowed considerably this round. Ellis with a snapping right, but he was still outworked again.
Ali's Round- 10-9 (49-47) Ali

Round 6- Ali and Ellis exchange jabs in the center of the ring. Ali getting the better of it. Ellis jabbing to the body, but Ali is more effective with his jab which wins him the round.
Ali's Round- 10-9 (59-56) Ali

Round 7- Jabs and more jabs from both fighters, Ali more effective. Nice punches from Ali to the jaw. Ellis is being thwarted in his attempts to move forward, he needs to start getting more busy.
Ali's Round- 10-9 (69-65) Ali

Round 8- Ellis being blocked and Ali landing well with jabs, nice right from Ali. Ellis being outworked here. Ellis with a great three punch combination, Ali fires back, Ellis with two left hooks to end the round.
Even Round- 10-10 (79-75) Ali

Round 9- Ali Still outworking Ellis, Ellis nice jabs, Ali is starting to move forward. Ellis nice left hook followed by a right. Ellis landing well in this round. Ali with a right at the end of the round.
Ellis Round- 10-9 (88-85) Ali

Round 10- Ali moving well and landing well, nice right by Ellis. Strong right from Ali, Ali moving forward lands a right, Ellis is wobbled. Another good right from Ali. Good round for Muhammad Ali.
Ali's Round- 10-9 (98-94) Ali

Round 11- Ali jabbing well, he's starting to pick Ellis apart bit by bit. Ali snapping Ellis head back. Ellis can't get too many punches in, he's fighting real defensively now.
Ali's Round- 10-9 (108-103) Ali

Round 12- Ali on his bicycle to start the 12th round. Ellis is staggered by a right from Ali. Ellis is trying to get away but is unsuccessful. Ellis is hurt by a right, combinations from Ali, Ellis is almost going down. Ali has Ellis defenseless on the ropes and the referee stops it. Muhammad Ali wins the fight and knocks out Jimmy Ellis in the last round. Ali-TKO 12

Muhammad Ali proved he could fight without Angelo Dundee in his corner, although it wasn't his best performance. Dundee would go on to work the rest of the fights for both fighters. Ellis had lost, but fought gamely. He was on the backside of his career, although he still had a win streak and some good fights left in him. Ali was starting to get revved up again and get closer to another title shot. It would be nearly 3 years until he got it, but he wouldn't disappoint. Ali was on the comeback trail.