Frazier Vs Ellis II-Mar 1st, 1975
The return match was staged in of all places Melbourne, Australia for these former champions. Frazier was still very much in the title hunt coming off a quick KO win over tough Jerry Quarry. Frazier's record stood at 30-2 with 25 ko's. He knew that if he won this fight he would be in line for the make or break battle with champion Muhammad Ali to continue their rivalry. Ellis was past his prime and had lost 4 of his last 6 fights. He lost to Ron Lyle and Joe Bugner most recently and his record stood at 39-11-1. Ellis would love nothing more then to ruin Frazier's future plans. Let's look at the fight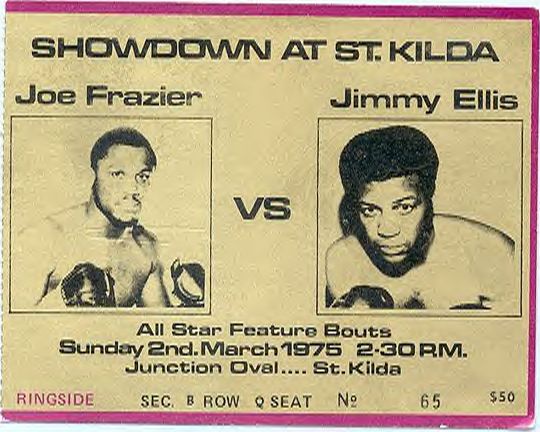 Here's the fight as I saw it.-Green are the round scores as I scored it, red is important text like a cut, great punch or knockdown.

Round 1- Ellis comes out jabbing and keeping Frazier on the outside. Ellis starting fast as he usually does. Ellis landing good jabs against Frazier. He's tying Frazier up well on the inside, something that's very important to his cause. Ellis Round- 10-9

Round 2- Ellis landing good jabs and holding effectively on the inside. Frazier not landing much yet. Ellis is outworking Joe with his crisp jabs, and not letting Frazier get loose for his hooks. Nice jabs from Ellis.
Ellis Round- 10-9 (20-18) Ellis

Round 3- Frazier comes out and just misses a big hook. Ellis lands a good right, Ellis landing well on Frazier. Frazier still being outworked. Ellis finishes the round with a nice left.
Ellis Round- 10-9 (30-27) Ellis

Round 4- Frazier lands a big hook to Ellis chin, best punch of the fight. Frazier lands another hook and is working much better now. Big hook from Frazier and Ellis wobbles a little. Big comeback round for Frazier. Frazier's Round- 10-9 (39-37) Ellis

Round 5- Frazier lands a left hook early. Frazier starting to get closer to Ellis. Frazier is closing the gap fast and Ellis is slowing down noticeably. Ellis isn't able to hold Joe anymore.
Frazier's Round- 10-9 (48-47) Ellis

Round 6- Ellis gets caught with a hook early. He's having trouble moving away now. Frazier lands a great combination- left, right, left to Ellis head, Ellis looks really tired now.
Frazier's Round- 10-9 (57-57) Even

Round 7- Frazier pressing the action, it looks like Joe can end it soon. Ellis has a cut and the referee, Bob Foster, looks at it ,Frazier winging punches now, Ellis still trying to hold but he's unsuccessful.
Frazier's Round- 10-9 (67-66) Frazier

Round 8- Frazier stalking Ellis, Ellis holding on a lot, Frazier has the pressure on non-stop. Ellis tries firing back but gets hit. Ellis is really taking a lot of punches and punishment now. It's only a matter of time before he's out of there. Frazier's Round- 10-9 (77-75) Frazier

Round 9- Frazier lands a monster left hook early, Ellis is hurt real bad, Frazier is landing everything he throws. Ellis is being nailed. The fight's over the referee stopped it, Ellis was worn down by the punishment. Frazier-TKO 9

Joe Frazier wore down Ellis much like he had in the first fight. The curve was a little longer in this fight because Ellis was able to hold on longer this time. Ellis had a style that could get to Joe, but he just didn't have the endurance to keep up the pace, and Frazier's shots were too heavy. Frazier would get his shot to fight Ali again and regain the title. Ellis was finished after one more fight, he went out on a winning note knocking out Carl Baker in one round.