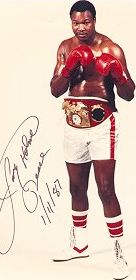 The ledger to the right lists high quality fighters in yellow and fights with the heavyweights of the 70's in black. The links in black on the fighters names are links to information from the fight itself, the feeling before the fight and the fight as I saw it. If the fighter lost a certain fight four asterisks will be in the last column(****). If a result of a fight is linked in blackthen that fighters record is available in the records database.
Larry Holmes was never appreciated for the skill he possessed. Every time he was congratulated there was someone saying he was no Muhammad Ali. It's true he was no Ali, but no one else was either. It would be like me comparing every pitcher to Nolan Ryan or every hitter to Willie Mays. People just aren't that good. Holmes was a great tactician in the ring, he would box if he had to, slug if he wanted to and fight inside if he needed a knockout, which was rare. Very few heavyweights ever were as adaptable as Holmes was, being able to change styles for his benefit. The jab was the ever constant reminder that the fighter you were you were watching was indeed Larry Holmes. Holmes started his career in 1973 at the age of 24 which is relatively old. He missed out on the majority of the 70's greats because he was still fighting pre-lims when the greats were fighting each other. Thankfully a couple of the 70's greats were still fighting when Holmes reached his prime so that some comparisons could made. Holmes early in his career didn't fight the best competition. He was 22-0 when stepping against Tom Prater in a WBC first round elimination bout. Holmes used his jab and right cross effectively in getting the decision. After this Holmes was close to fighting for the title. He had to fight the great puncher Earnie Shavers. This fight was for the right to fight Ken Norton for the title. For more on this fight click on the Earnie Shavers link to the right. After Holmes beat his first heavyweight of the 70's fighter another was in his way. Ken Norton was given the Title after Muhammad Ali retired and his first defense was against Larry Holmes. Holmes and Norton went to war and the split decision went Holmes way. Holmes went on to make 19 straight title defenses. He beat Earnie Shavers again in a war in which Shavers delivered a crushing blow that only a fighter with a lot of heart could survive. Holmes did and turned the tables four rounds later knocking out Shavers in the 11th. He then took on a shot Muhammad Ali who tried hard but wasn't up to Holmes at this stage of their careers. Holmes then went to work clearing out the division. He beat Trevor Berbick, Leon Spinks, Gerry Cooney and Tex Cobb among others. He then faced the underrated Tim Witherspoon in 1983. Witherspoon staged a rally that fell just short with the judges giving a split decision win to Holmes, at this point Holmes was 43-0 and just 6 wins from tying Rocky Marciano's 49-0 undefeated record. He got the first 5 over the likes of James (Bonecrusher) Smith and Carl (The Truth) Williams. He was on the cusp of tying the record when he fought undefeated light heavyweight champ Michael Spinks. Holmes was 36 years old for this fight which a lot of people fail to realize, and he lost his first fight to Spinks. His speed was slowing down and this effectively ends the real career of Larry Holmes. He boxes until this day, but since about 1988 has been more a curiosity then legit contender. He did beat Ray Mercer in a surprise, but has lost to people like Oliver Mccall who would have been destroyed in the early 80's. A great underrated champ "The Eaton Assassin", Larry Holmes.
Vs 1991 Evander Holyfield-Holmes would out box Holyfield for many rounds, the rounds they slugged would be pretty even with neither fighter being able to knock the other down. The Holmes jab would get him this fairly close decision. Prediction- Holmes Unanimous Decision.
Vs 1988 Mike Tyson- A very interesting fight would take place between these two. I just don't think Tyson would be able to get inside that lethal jab. I do however believe Tyson would hurt Holmes in this fight. Would he get him out? If Shavers couldn't after the punch he landed Tyson wouldn't either. Late in the fight Tyson would become tired and Holmes would get one of his patented late knockouts. Prediction-Holmes KO in 12
Vs 1999 Lennox Lewis- Lewis would come out slugging and miss a lot. He also would connect a couple times and win some rounds. Some probably being 3 or 4 because Holmes would still be able to control the ring in this fight. Probably not a Knockout, but darn close in the late rounds. Prediction-Holmes Unanimous Decision.


(1-10 skill rating, ten being the best)
Power-6
Hand Speed-9
Chin-8
Footwork-8
Heart-9
Endurance-8
Defense-7
Intangibles(smarts,finishing,getting out of trouble,Cuts)-7
TOTAL-62 rated an A fighter.
---

A+ = 65 or higher-All Time Top 10 All weights
A = 59-64-Top 10 All Time Heavy
A- = 57-58-Top 20 All Time Heavy
B+ = 55-56-Great star any period
B = 49-54-star any period
B- = 47-48-minor star any period
C+ = 41-46-Good Fighter any period
Career Record
| | | | | |
| --- | --- | --- | --- | --- |
| Date | Opponent | Sched rds. | Result | Time |
| Mar 21,1973 | R.Dupree | 4 | W-Dec | ---- |
| May 2,1973 | A.Savage | 4 | KO 3 | 1:32 |
| June 20,1973 | C.Whitner | 4 | TKO 1 | 2:14 |
| Aug 22, 1973 | D.Branch | 6 | W-Dec | ---- |
| Sept 10, 1973 | B.Brozic | 6 | W-Dec | ---- |
| Nov 14,1973 | J.Judge | 6 | W-Dec | ---- |
| Nov 28,1973 | K.Isaac | 6 | KO 3 | 1:05 |
| Apr 24,1974 | H.Darlington | 8 | TKO 4 | 2:23 |
| May 29,1974 | B.Mashburn | 8 | KO 7 | 2:38 |
| Dec 11,1974 | J.Hathaway | 8 | KO 1 | 2:47 |
| Mar 24,1975 | C.Green | 8 | KO 1 | 1:57 |
| Apr 9,1975 | O.Wright | 10 | TKO 3 | ---- |
| Apr 26,1975 | R.Yarborough | 10 | KO 3 | ---- |
| May 16,1975 | E.Smith | 10 | KO 3 | ---- |
| Aug 16,1975 | O.English | 10 | TKO 8 | 3:00 |
| Aug 26,1975 | C.James | 10 | W-Dec | ---- |
| Oct 1,1975 | R.Bobick | 10 | TKO 6 | 2:47 |
| Dec 9,1975 | L.Shaw | 10 | KO 1 | 2:43 |
| Dec 20,1975 | B.Joiner | 10 | KO 3 | 2:29 |
| Jan 29,1976 | J.Gholsten | 10 | TKO 8 | 2:38 |
| Apr 5,1976 | F.Askew | 10 | TKO 2 | 2:18 |
| Apr 30,1976 | R.Williams | 10 | W-Dec | ---- |
| Jan 16,1977 | T.Prater | 8-(Elim) | W-Dec | ---- |
| Mar 17,1977 | H.Robinson | 10 | TKO 6 | 3:00 |
| Sept 14,1977 | F.Houpe | 10 | TKO 7 | 0:41 |
| Nov 5,1977 | I.Arrington | 10 | TKO 10 | 1:38 |
| Mar 25,1978 | Earnie Shavers | 12-(Elim) | W-Dec | ---- |
| June 9,1978 | Ken Norton | 15-(World) | W-Spl Dec | ---- |
| Nov 10,1978 | A.Evangelista | 15-(World) | KO 7 | 2:14 |
| Mar 23,1979 | O.Ocasio | 15-(World) | TKO 7 | 2:38 |
| June 22,1979 | M.Weaver | 15-(World) | TKO 12 | 0:44 |
| Sept 28,1979 | Earnie Shavers | 15-(World) | TKO 11 | 2:00 |
| Feb 3,1980 | L.Zanon | 15-(World) | TKO 6 | 2:39 |
| Mar 31,1980 | L.Jones | 15-(World) | TKO 8 | 2:56 |
| July 7,1980 | S.Ledoux | 15-(World) | TKO 7 | 2:05 |
| Oct 2,1980 | Muhammad Ali | 15-(World) | TKO 11 | 3:00 |
| Apr 11,1981 | T.Berbick | 15-(World) | W-Dec | ---- |
| June 12,1981 | L.Spinks | 15-(World) | TKO 3 | 2:34 |
| Nov 6,1981 | R.Snipes | 15-(World) | TKO 11 | 1:05 |
| June 11,1982 | G.Cooney | 15-(World) | TKO 13 | 2:52 |
| Nov 26,1982 | Tex Cobb | 15-(World) | W-Dec | ---- |
| Mar 27,1983 | L.Rodriguez | 12-(World) | W-Dec | ---- |
| May 20,1983 | T.Witherspoon | 12-(World) | W-Spl Dec | ---- |
| Sept 10,1983 | S.Frank | 12-(World) | TKO 5 | 1:28 |
| Nov 25,1983 | M.Frazier | 12-(World) | TKO 1 | 2:57 |
| Nov 9,1984 | J.Smith | 15-(World) | TKO 12 | 2:10 |
| Mar 15,1985 | D.Bey | 15-(World) | TKO 10 | 2:58 |
| May 20,1985 | C.Williams | 15-(World) | W-Dec | ---- |
| Sept 21,1985 | M.Spinks | 15-(World) | L-By Dec | **** |
| | | | | |
| --- | --- | --- | --- | --- |
| Apr 19,1986 | M.Spinks | 15-(World) | L-By Spl Dec | **** |
| Jan 22,1988 | M.Tyson | 12-(WBC) | L-By Tko 4 | **** |
| Apr 7,1991 | T.Anderson | 10 | TKO 1 | 2:03 |
| Aug 13,1991 | E.Gonzales | 10 | W-Dec | ---- |
| Aug 24,1991 | M.Greer | 10 | KO 4 | 1:18 |
| Sept 17,1991 | Art Card | 10 | W-Dec | ---- |
| Nov 12,1991 | J.Howe | 10 | TKO 1 | 1:57 |
| Feb 7,1992 | R.Mercer | 10 | W-Dec | ---- |
| June 19,1992 | E.Holyfield | 12-(World) | L-By Dec | **** |
| Jan 5,1993 | E.Martin | 10 | W-Dec | |
| Mar 9,1993 | R.Pepeli | 10 | TKO 4 | |
| Apr 13,1993 | K.Lakusta | 10 | TKO 8 | |
| May 18,1993 | P.Poirier | 10 | TKO 6 | |
| Sept 28,1993 | J.Ribalta | 10 | W-Dec | |
| Mar 8,1994 | G.Lane | 10 | W-Dec | |
| Aug 9,1994 | J.Ferguson | 10 | W-Dec | |
| Apr 8,1995 | O.McCall | 12-(WBC) | L-By Dec | **** |
| Sept 19,1995 | E.Donaldson | 10 | W-Dec | |
| Jan 9,1996 | C.Shepard | 10 | KO 4 | |
| Apr 16,1996 | Q.Navarre | 10 | W-Dec | |
| June 16,1996 | A.Willis | 10 | KO 8 | 1:04 |
| Jan 24,1997 | B.Nielsen | 12 | L-By Dec | **** |
| July 29,1997 | M.Harris | 10 | W-Dec | |
| June 18,1999 | J.Smith | 10 | TKO 8 | |
| Nov 17,2000 | M.Weaver | 10 | TKO 6 | |
| | | | | |
| | | | | |
| | | | | |
| | | | | |
| | | | | |
| | | | | |
| | | | | |
| | | | | |
| | | | | |
| | | | | |