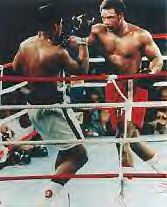 The ledger to the right lists high quality fighters in purple and fights with the heavyweights of the 70's in black. The links in black on the fighters namesare links to information from the fight itself, the feeling before the fight and the fight as I saw it. If the fighter lost a certain fight four asterisks will be in the last column(****).If a result of a fight is linked in black then that fighters record is available in the records database.
Foreman was known for his huge punching power with both hands. He had a lethal jab and great punishing half uppercuts, half hooks which hit diagonally at the chin of his opponent. This is why Foreman was so good against shorter fighters like Frazier, because the power of those shots would be right in the shorter opponents jaw. Foreman's first real test was his first fight against Gregorio Peralta, February 16th, 1970. Foreman probably took more shots in that bout then the rest put together until that time. Foreman proved he had a great chin against Peralta and would then move on to bigger and better things. Foreman's fight against George Chuvalo in 1970 was a great measuring stick for how far Foreman had advanced. Chuvalo was very durable and Foreman walked right through him in route to a 3rd round stoppage. Some thought the fight was stopped too soon, but they did Chuvalo a break. Foreman continued on against decent but limited competition like Boone Kirkman and Ted Gullick before facing Terry Sorrels in late 1972. Foreman overwhelmed him and showed a great arsenal in destroying Sorrels inside two rounds. This set up for the undefeated war with Joe Frazier. Foreman had fought no one near the class of Frazier and the public wondered if George could compete with the best in the division. This began a streak when 5 of the next 6 of George's fights were with the best of '70's fighters. For more information on those fights the links will take you closer to the action involving these great fights. This stretch of fights would put a stamp on Foreman's firt career. After these fights Foreman was once again in line for a title shot. Foreman took on underrated Jimmy Young and was given a boxing lesson for 12 rounds that would prove to be the end for George's first career. Everyone knew Young was a slick boxer but Foreman didn't seem as interested and his impending retirement answered those questions. Foreman's second career was a marvel to everyone, and his regaining the title nearly 20 years after he won it the first time shows how far a big punch and a lot of will takes you. To watch George Foreman in these early fights is to see the art of destruction at it's finest. The Foreman that came back years later was a lot smarter, but only a shell of the fighter he was in the early to mid 70's.
Vs 1991 Evander Holyfield-Foreman did well coming back against a Holyfied that was at his peak, Big George's peak had passed at least 15 years ago. The fight would be interesting for 4 or 5 rounds then George would chop him down. Prediction-Foreman KO in 7
Vs 1988 Mike Tyson-Tyson was a great puncher and was a quality fighter in 1988. He was however no Joe Frazier and we saw what Foreman did with him twice. I'll take the under. Prediction-Foreman KO in 3
Vs 1999 Lennox Lewis-Lewis would pose size problems as he does to everybody. Foreman never liked punching up at targets and it would not be as quick as some might expect, but Lewis takes too many punches and if that happens against George Foreman the fat lady can sing. Prediction-Foreman KO in 6
Foreman(1-10 skill rating, ten being the best)
Power-10
Hand Speed-6
Chin-9
Footwork-6
Heart-9
Endurance-6
Defense-7
Intangibles(smarts,finishing,getting out of trouble,Cuts)-9
TOTAL-62 rated an A fighter.
---

A+ = 65 or higher-All Time Top 10 All weights
A = 59-64-Top 10 All Time Heavy
A- = 57-58-Top 20 All Time Heavy
B+ = 55-56-Great star any period
B = 49-54-star any period
B- = 47-48-minor star any period
C+= 41-46-Good Fighter any period
Career Record
| | | | | |
| --- | --- | --- | --- | --- |
| Date | Opponent | Sched rds. | Result | Time |
| June 23,1969 | D.Waldham | 6 | KO 3 | 1:54 |
| July 1,1969 | F.Askew | 6 | KO 1 | 2:30 |
| July 14,1969 | S.Dullaire | 6 | KO 1 | 2:59 |
| Aug 18,1969 | C.Wepner | 8 | TKO 3 | 0:54 |
| Sept 18,1969 | J.Carroll | 8 | KO 1 | 2:19 |
| Sept 23,1969 | C.Wallace | 6 | KO 2 | 0:19 |
| Oct 7,1969 | V.Clay | 6 | TKO 2 | 0:32 |
| Oct 31,1969 | R.Davila | 8 | W-Dec | ---- |
| Nov 5,1969 | L.Peterson | 8 | KO 4 | 1:00 |
| Nov 18,1969 | M.Martinez | 10 | KO 2 | 2:35 |
| Dec 6,1969 | B.Hazelton | 6 | KO 1 | 1:22 |
| Dec 16,1969 | L.Forte | 10 | W-Dec | ---- |
| Dec 18,1969 | G.Wiler | 10 | KO 1 | ---- |
| Jan 6,1970 | C.Polite | 10 | KO 4 | 0:34 |
| Jan 26,1970 | J.O'Halloran | 10 | KO 5 | 1:10 |
| Feb 16,1970 | G.Peralta | 10 | W-Dec | ---- |
| Mar 31,1970 | R.Brassell | 10 | KO 1 | 2:42 |
| Apr 17,1970 | J.J Woody | 10 | TKO 3 | 0:37 |
| Apr 29,1970 | A.Eastling | 10 | TKO 4 | 2:24 |
| May 16,1970 | G.Johnson | 10 | TKO 7 | 1:41 |
| July 20,1970 | R.Russell | 10 | TKO 1 | 1:50 |
| Aug 4,1970 | G.Chuvalo | 10 | TKO 3 | 1:41 |
| Nov 3,1970 | L.Bailey | 10 | KO 3 | 1:50 |
| Nov 18,1970 | B.Kirkman | 10 | TKO 2 | 0:41 |
| Dec 18,1970 | M.Turnbow | 10 | TKO 1 | 2:58 |
| Feb 8,1971 | C.Boston | 10 | KO 1 | 2:01 |
| Apr 3,1971 | S.Harris | 10 | KO 2 | 2:38 |
| May 10,1971 | G.Peralta | 15-(Pan-Am) | KO 10 | 2:52 |
| Sept 14,1971 | V.Scot | 10 | KO 1 | 1:35 |
| Sept 21,1971 | L.Caldwell | 10 | KO 2 | 1:54 |
| Oct 7,1971 | O.Wilson | 10 | TKO 2 | 2:35 |
| Oct 29,1971 | L.Pires | 10 | TKO 5 | ---- |
| Feb 29,1972 | M.Goodwin | 10 | KO 2 | 1:02 |
| Mar 7,1972 | C.Boone | 10 | TKO 2 | 2:56 |
| Apr 10,1972 | T.Gullick | 10 | KO 2 | 2:28 |
| May 11,1972 | M.A Paez | 15-(Pan-Am) | KO 2 | 2:29 |
| Oct 10,1972 | T.Sorrels | 10 | KO 2 | 1:05 |
| Jan 22,1973 | Joe Frazier | 15-(World) | TKO 2 | 1:35 |
| Sept 1,1973 | J.Roman | 15-(World) | KO 1 | 2:00 |
| Mar 26,1974 | Ken Norton | 15-(World) | TKO 2 | 2:00 |
| Oct 30,1974 | Muhammad Ali | 15-(World) | L-By Ko 8 | **** |
| Jan 24,1976 | Ron Lyle | 10 | KO 5 | 2:28 |
| June 15,1976 | Joe Frazier | 10 | TKO 5 | 2:26 |
| Aug 14,1976 | S.Ledoux | 10 | KO 3 | 2:58 |
| Oct 15,1976 | D.Denis | 10 | TKO 4 | 2:25 |
| Jan 22,1977 | P.Agosto | 10 | TKO 4 | 2:34 |
| Mar 17,1977 | J.Young | 12 | L-By Dec | **** |
| Mar 9,1987 | S.Zouski | 10 | TKO 4 | 2:47 |
| July 9,1987 | C.Hostetter | 10 | KO 3 | 2:01 |
| | | | | |
| --- | --- | --- | --- | --- |
| Sept 15,1987 | B.Crabtree | 10 | TKO 6 | 2:40 |
| Nov 21,1987 | T.Anderson | 10 | TKO 4 | 2:23 |
| Dec 18,1987 | R.Sekorski | 10 | TKO 3 | 2:48 |
| Jan 23,1988 | T.Trimm | 10 | KO 1 | 0:47 |
| Feb 5,1988 | G.Trane | 10 | TKO 5 | 2:39 |
| Mar 19,1988 | D.Qawi | 10 | TKO 7 | 1:51 |
| May 21,1988 | F.Williams | 10 | TKO 3 | 2:07 |
| June 26,1988 | C.Hernandez | 10 | TKO 4 | 1:36 |
| Aug 25,1988 | L.Mijangos | 10 | TKO 2 | 2:42 |
| Sept 10,1988 | B.Hitzenberger | 10 | KO 1 | 2:59 |
| Oct 27,1988 | T.Fulilangi | 10 | TKO 2 | 2:26 |
| Dec 28,1988 | D.Jaco | 10 | TKO 1 | 2:01 |
| Jan 26,1989 | M.Young | 10 | TKO 7 | 1:47 |
| Feb 16,1989 | M.de Almeida | 10 | TKO 3 | 2:14 |
| Apr 30,1989 | B.Cooper | 10 | TKO 3 | ---- |
| July 20,1989 | E.Martin | 10 | W-Dec | ---- |
| Jan 15,1990 | G.Cooney | 10 | KO 2 | 1:57 |
| Apr 17,1990 | M.Jameson | 10 | TKO 4 | 2:16 |
| June 16,1990 | A.Rodrigues | 10 | KO 2 | 2:39 |
| July 31,1990 | K.Lakusta | 10 | KO 3 | 1:24 |
| Sept 25,1990 | T.Anderson | 10 | KO 1 | 2:59 |
| Apr 19,1991 | E.Holyfield | 12-(World) | L-Dec 12 | **** |
| Dec 7,1991 | J.Ellis | 10 | TKO 3 | 1:36 |
| Apr 11,1992 | A.Stewart | 10 | W-Dec 10 | ----- |
| Jan 16,1993 | P.Coetzer | 10 | TKO 8 | 1:48 |
| June 7,1993 | T.Morrison | 12-(WBO) | L-Dec 12 | **** |
| Nov 5,1994 | M.Moorer | 12-(World) | KO 10 | 2:03 |
| Apr 22,1995 | A.Schultz | 12-(World) | W-Dec 12 | ---- |
| Nov 2,1996 | C.Grimsley | 12-(World) | W-Dec 12 | ---- |
| Apr 26,1997 | L.Saverese | 12-(World) | W-Dec 12 | ---- |
| Nov 22,1997 | S.Briggs | 12-(World) | L-Dec 12 | **** |
| | | | | |
| | | | | |
| | | | | |
| | | | | |
| | | | | |
| | | | | |
| | | | | |
| | | | | |
| | | | | |