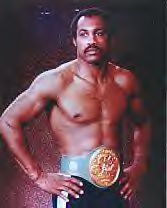 The ledger to the right lists high quality fighters in purple and fights with the heavyweights of the 70's in red. The links in red on the fighters names are links to information from the fight itself, the feeling before the fight and the fight as I saw it. If the fighter lost a certain fight three asterisks will be in the last column(***). If a result of a fight is linked in red then that fighters record is available in the records database.
Ken Norton was a great puncher who could offer many different looks to opponents with his crab defense and switching styles. The crab defense involved ducking the head low in-between the arms and throwing punches from odd angles. He threw a overhand right from this position and was very effective in wearing down the opposition with solid body punching. Not the one punch knock-out artist in the class of Foreman or Shavers, Norton was more a combination puncher. The style he used gave Muhammad Ali the toughest fights of his career against ANY opponent as all three of their fights could have gone either way. Ken Norton started his career in 1967 and went 16-0 before losing to top ten contender Jose Luis Garcia who Ko'd Norton in the 8th giving Ken his first defeat. Norton pounded his way back out pointing tough Chuck Leslie and beating James Woody twice (one ko, one decision) in '71 and '72. After fifteen straight wins Norton lured Muhammad Ali into his lair in San Diego for the NABF championship. This fight would be Norton's most famous and for more on it click on the link for March 30, 1973. A return match followed and Norton would come up short for the second loss of his career. The country was so impressed with Norton that he got a title shot after the loss to Ali. His opponent was George Foreman, and the outcome wasn't pretty for Norton fans. After this Ken came back to beat tough Boone Kirkman and beat another legend Jerry Quarry, more for this fight can be found at the link. A second fight against Garcia came next and Ken returned the favor by knocking Garcia out in 5. After 3 more successful fights Norton got his third chance at Ali and put on an incredible display in front of the New York fans, but came away with a heavily disputed loss. Norton was still without his title after beating the tough Jimmy Young. Luck and timing were on Norton's side when he was given the WBC belt after Leon Spinks refused to fight him. In his very first defense he waged an epic struggle against Larry Holmes in one of the best fights ever. Ken probably should have retired then, but fought 5 more times going (2-2-1). One of those fights was against super puncher Earnie Shavers, which was a washout for Norton. Ken finished his career in 1981 and should be given the credit for being the toughest fighter for Muhammad Ali to fight. Some would say it is Joe Frazier, but watch all three fights against both Frazier and Norton and tell me who you think Ali had more trouble with.
Vs 1991 Evander Holyfield-This is a pick-em type fight. Both guys have similar builds with the better punch going to Norton and quickness going to Holyfield. Ask me who wins in ten fights I would say both win 5 times but for one fight? Prediction-Norton Split Decision
Vs 1988 Mike Tyson-Tyson had the punch that could bother Norton. But the question is would he land it? I think he would land it and put Norton in big trouble. Norton would try to move and get caught again and that would spell big trouble because if there is one thing Tyson could do it was finish and he would. Prediction-Tyson KO in 5
Vs 1999 Lennox Lewis-Norton had the punch(Overhand right), To hit taller fighters and would close the show against Lewis who is a little fragile. Lewis might stun Norton early, but end up tasting an overhand right in the Oliver Mccall fashion. Close early, ended fast. Prediction-Norton KO in 8


Norton(1-10 skill rating, ten being the best)
Power-7
Hand Speed-7
Chin-6
Footwork-6
Heart-8
Endurance-8
Defense-8
Intangibles(smarts,finishing,getting out of trouble,Cuts)-7
TOTAL-57 rated an A-fighter.
---

A+ = 65 or higher-All Time Top 10 All weights
A = 59-64-Top 10 All Time Heavy
A- = 57-58-Top 20 All Time Heavy
B+ = 55-56-Great star any period
B = 49-54-star any period
B- = 47-48-minor star any period
C+ = 41-46-Good Fighter any period
Career Record
| | | | | |
| --- | --- | --- | --- | --- |
| Date | Opponent | City-Title | Result | Record |
| Nov 14,1967 | G.Brazell | San Diego | KO 5 | 1-0 |
| Jan 16,1968 | S.Wyatt | San Diego | W-Dec 6 | 2-0 |
| Feb 6,1968 | H.Dutra | Sacramento | KO 3 | 3-0 |
| Mar 26,1968 | J.Gilmore | San Diego | KO 7 | 4-0 |
| July 23,1968 | W.Kindred | San Diego | KO 6 | 5-0 |
| Dec 5,1968 | C.Nolan | Los Angeles | KO 6 | 6-0 |
| Feb 11,1969 | J.Hemphill | Wood Hills | KO 3 | 7-0 |
| Feb 20,1969 | W.Kindred | Los Angeles | KO 9 | 8-0 |
| Mar 31,1969 | P.Sanchez | San Diego | KO 1 | 9-0 |
| May 29,1969 | B.McMurray | Los Angeles | KO 7 | 10-0 |
| July 25,1969 | G.Bates | San Diego | KO 8 | 11-0 |
| Oct 21,1969 | J.Garcia | San Diego | KO 3 | 12-0 |
| Feb 1,1970 | A.Eastling | Las Vegas | KO 2 | 13-0 |
| Mar 13,1970 | S.Harris | San Diego | KO 3 | 14-0 |
| Apr 7,1970 | B.Mashburn | Cleveland | KO 4 | 15-0 |
| May 8,1970 | R.Ellis | San Diego | KO 2 | 16-0 |
| July 2,1970 | J.L Garcia | Los Angeles | L-By KO 8 | 16-1 *** |
| Aug 28,1970 | C.Wallace | San Diego | KO 4 | 17-1 |
| Sept 26,1970 | C.Leslie | Wood Hills | W-Dec 10 | 18-1 |
| Oct 16,1970 | R.Harris | San Diego | KO 2 | 19-1 |
| Apr 24,1971 | S.Carter | Wood Hills | KO 3 | 20-1 |
| June 12,1971 | V.Brown | S.Monica | KO 5 | 21-1 |
| Aug 7,1971 | C.Haynes | S.Monica | KO 7 | 22-1 |
| Sept 29,1971 | J.Woody | San Diego | W-Dec 10 | 23-1 |
| Feb 17,1972 | C.Harris | San Diego | KO 3 | 24-1 |
| Mar 16,1972 | J.O'Halloran | San Diego | W-Dec 10 | 25-1 |
| June 5,1972 | H.Jacobs | San Diego | W-Dec 10 | 26-1 |
| June 28,1972 | J.Woody | San Diego | KO 7 | 27-1 |
| Nov 21,1972 | H.Clark | S.Line,NV | KO 9 | 28-1 |
| Dec 13,1972 | C.Reno | San Diego | W-Dec 10 | 29-1 |
| Mar 30,1973 | Muhammad Ali | (NABF) | W-Dec 12 | 30-1 |
| Sept 30,1973 | Muhammad Ali | (NABF) | L-By Dec 12 | 30-2 *** |
| Mar 25,1974 | George Foreman | (World) | L-By Ko 2 | 30-3 *** |
| June 24,1974 | B.Kirkman | Seattle | KO 8 | 31-3 |
| Feb 13,1975 | R.Brooks | Okla City | KO 1 | 32-3 |
| Mar 24,1975 | Jerry Quarry | New York | KO 5 | 33-3 |
| Aug 14,1975 | J.L Garcia | St Paul, MN | KO 5 | 34-3 |
| Jan 10,1976 | P.Lovell | Las Vegas | KO 5 | 35-3 |
| Apr 30,1976 | R.Stander | Landover, MD | KO 5 | 36-3 |
| July 10,1976 | L.Middleton | San Diego | KO 10 | 37-3 |
| Sept 29,1976 | Muhammad Ali | (World) | L-By Dec 15 | 37-4 *** |
| May 11,1977 | D.Bobick | New York | KO 1 | 38-4 |
| Sept 14,1977 | L.Zanon | Las Vegas | KO 5 | 39-4 |
| Nov 5,1977 | J.Young | Las Vegas | W-Dec 15 | 40-4 |
| Mar 29,1978 | Larry Holmes | (World) | L-By Dec 15 | 40-5 *** |
| Nov 10,1978 | R.Stephens | Las Vegas | KO 3 | 41-5 |
| Mar 23,1979 | Earnie Shavers | Las Vegas | L-By Ko 1 | 41-6 *** |
| Aug 19,1979 | S.Ledoux | Bloom, MN | D-10 | 41-6-1 |
| | | | | |
| --- | --- | --- | --- | --- |
| Oct 31,1980 | Tex Cobb | S.Antonio | W-Dec 10 | 42-6-1 |
| May 10,1981 | G.Cooney | New York | L-By Ko 1 | 42-7-1 *** |
| | | | | |
| | | | | |
| | | | | |
| | | | | |
| | | | | |
| | | | | |
| | | | | |
| | | | | |
| | | | | |
| | | | | |
| | | | | |
| | | | | |
| | | | | |
| | | | | |
| | | | | |
| | | | | |
| | | | | |
| | | | | |
| | | | | |
| | | | | |
| | | | | |
| | | | | |
| | | | | |
| | | | | |
| | | | | |
| | | | | |
| | | | | |
| | | | | |
| | | | | |
| | | | | |
| | | | | |
| | | | | |
| | | | | |
| | | | | |
| | | | | |
| | | | | |
| | | | | |
| | | | | |