Ali Vs Norton II- Sept 30th, 1973 L.A
This fight was the rematch of the stunning upset victory of Norton over Ali. It was the next fight back for both fighters and would prove if the first fight was a fluke. Ken Norton had beaten Henry Clark and Charlie Reno, not big names, before beating Ali in his last fight. Norton had a record of 30-1 with 23 knockouts and a lot of confidence going into this fight. Muhammad Ali was in much better shape for this fight and had a healthy respect for Norton now. Ali had a ring record of 41-2 and was primed for a better performance to get his NABF title back. The title was secondary though, he wanted to prove he wasn't washed up and come back in a big way. Another battle between two legends that would go down to the wire.

Here's the fight as I saw it.-Green are the round scores as I scored it, red is important text like a cut, great punch or knockdown.

Round 1- Ali comes out aggressive and lands a left and is moving well too. Norton lands a nice left hook and then a good right hand. Ali is punching strongly and is moving well still and throws a decent flurry to end the round. Ali's Round- 10-9

Round 2- Ali moving around the ring and jabbing well. Norton is not punching much at all, the quickness of Ali early is throwing Ken for a loop. Ali is using the jab and moving great. Norton lands a nice left hook at the bell. Ali's Round- 10-9 (20-18) Ali

Round 3- Ali moving fast and lands a good uppercut. Norton is having trouble getting started still. Ali is popping the jab and lands a nice lead right. Norton is getting a little closer, but is still being outworked.
Ali's Round- 10-9 (30-27) Ali

Round 4- Jab from Norton and Ali moves away. Norton digs a nice shot to the body and follows with a good left hook. Ali keeps working the jab effectively and is keeping Norton from getting to work. Ali lands a nice right and Norton lands a big right to end the round. Ali's Round- 10-9 (40-36) Ali

Round 5- Norton lands a jab and Ali is moving fast. Norton digs well to the body and is landing his own jab. Norton for the first time is closing the range dramatically. Nice right from Ali, Norton comes back to the body well. Good body shots from Norton and Ali fires back to close the round.
Norton's Round- 10-9 (49-46) Ali

Round 6- Ali is slowing a touch but lands a nice right early in the round. Norton stalking and lands a left hook and a jab uppercut combination. Norton lands a right hand and Ali fires back a left that might have stunned Norton. Even Round- 10-10 (59-56) Ali

Round 7- Ali is still moving and jabbing. Norton lands a couple good left hands while Ali dances all over the ring. Norton lands two solid jabs and a series of uppercuts, Ali is hurt!! Ali lands a left right combo but is nailed again and stunned by a Norton right. Norton throwing fine shots this round.
Norton's Round- 10-9 (68-66) Ali

Round 8- Norton still jabbing well and Ali is still moving away. Ali lands 3 fast punches to Norton's jaw. Norton lands a nice left hook and is in close range now. Ali with a nice right hand, but Norton comes back with a big two punch combo. Nice right at the bell from a charging Kenny Norton.
Norton's Round- 10-9 (77-76) Ali

Round 9- Norton and Ali exchange jabs. Good right from Norton and another lands. Good right from Ali that staggers Ken, they are trading shots in the middle of the ring. Ali is fighting better this round and is looking for his second wind. Ali's Round- 10-9 (87-85) Ali

Round 10- Norton landing his jab early, and Ali is looking to land a big right. Ali is again on his toes, but is stopped by a good Norton body shot. Ken lands a big left hand, then an uppercut. Norton finishes the round with another nice left hook that gets home. Norton's Round- 10-9 (96-95) Ali

Round 11- Norton comes out with the jab. Good body shots from Norton and he's going for the big punch now. Norton landing as Ali waits and covers up in the corner. Norton real aggressive and wails away this round, he looks dead tired at the bell. Norton's Round- 10-9 (105-105) even

Round 12- This round could decide the fight. Ali is looking to land the big shot knowing Norton is exhausted. Ali lands some nice solid punches to begin the round. Norton lands a couple big right hands but is being outworked here. Ali is landing but not able to really Norton this round. They exchange in the middle of the ring. Ali's Round- 10-9 (115-114) Ali is my decision.

Official Decision in rounds- 6-5 Ali
6-5 Norton
7-5 Ali Muhammad Ali wins by a split decision
Ali-S Dec 12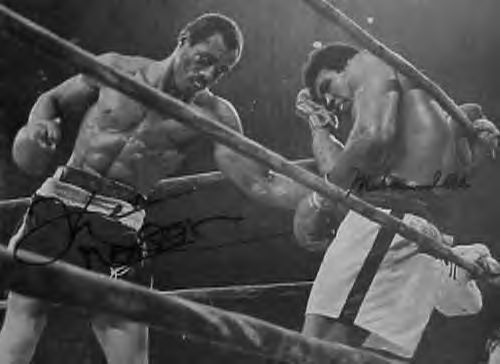 This fight was an absolute war that ended with Ali having just enough gas in the tank to pull out the last round. Out of the three Norton vs Ali wars this is my favorite to watch. Norton really looked as if he was going to win the fight until he ran out of energy at the end of the 11th round. The decision of the judges shows how close this fight was. Muhammad Ali would have another battle with Joe Frazier soon after this fight and would fight for the title in the next year. Ken Norton would get his title shot in his next fight and be steam rolled by George Foreman. Norton would have other chances for the title later in his career and finally get it in 1978.