Ali Vs Quarry-Oct 26th, 1970 Atlanta
Muhammad Ali had not been able to fight for more than 3 years because of his legal troubles. Before he was on his hiatus he was dominating each fighter he faced. He was so much faster and smarter in the ring then his opponents that it looked like child's play. Ali was 29-0 when he came back to the ring to fight Jerry Quarry. Quarry was no easy first fight, and in fact many predicted he would beat Ali. Quarry was a tough fighter who was out pointed in a tough decision to Jimmy Ellis for the World Title 2 years earlier. Quarry had a good left hook and great chin and was willing to fight anyone. Quarry was 37-4-4 going into this contest. Everyone was anxious to see if Ali still had the speed and incredible skills that he had before his semi retirement. Let's find out

Here's the fight as I saw it.-Green are the round scores as I scored it, red is important text like a cut, great punch or knockdown.

Round 1- Ali comes out on his bicycle and connects with jabs. Quarry ducks many jabs and is watching Ali's style without throwing many punches yet. Good first round back for Ali.
Ali's Round- 10-9

Round 2- Same strategy for Ali, he's moving effectively and slipping Quarry's left hooks. Quarry starts pressuring more and is more effective then in round 1, but is still being outworked by Ali.
Ali's Round- 10-9 (20-18) Ali

Round 3- Ali sets down on his punches more this round and the fight looks like it's really starting. Quarry Wings left hooks and connects with some body shots. The fight looks like it's gonna get interesting, but all of a sudden after an Ali punch blood starts flowing from Quarry's eye. Ali punches the eye and it's a real mess. Ali's Round 10-9 (30-27) Ali

Between rounds 3 and 4 the doctor stops the fight because of the cut to Quarry's eye.
Ali-TKO 3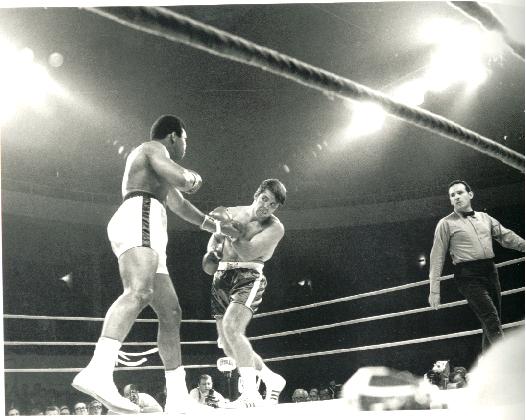 This fight really was never given a chance to get going. Ali seemed to have his speed still but his endurance wasn't tested. Quarry was apologetic almost that the fight couldn't go on, but his old nemesis the cut was causing problems again. Quarry would get another chance at Ali in another year and fight many more top fighters. Ali proved he still had skills, it was still a question to see if he could come back to his old form and beat the new champ Smokin Joe Frazier.