Frazier Vs Quarry II- June 17th, 1974
5 years after their first encounter, Joe Frazier and Jerry Quarry had a rematch to put one in position to get another shot at the title held by Muhammad Ali. Quarry had gone on a terrific winning streak that included 6 straight victories and upset wins over both Ron Lyle and Earnie Shavers. Quarry was always dangerous and seemed to be a better fighter under new trainer Gil Clancy. Quarry's record was 49-7-4 and 31 of his wins had come via the knockout. Joe Frazier was still smarting from his close decision loss to Ali only 6 months earlier and wanted to get his shot at the title. Frazier in the the first fight with Quarry wore Jerry down and ended the fight when was Quarry was too cut to continue. Let's see if this fight was any different.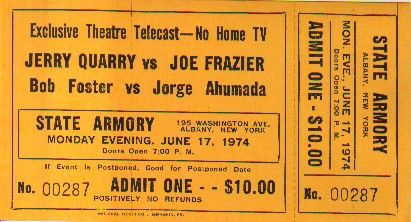 Here's the fight as I saw it.-Green are the round scores as I scored it, red is important text like a cut, great punch or knockdown.

Round 1- Frazier wades in early and Quarry is counter punching real well. Quarry is boxing a bit to start the fight, Quarry is landing real well early. Frazier still coming in, Frazier lands a big left hook to end the round. Quarry's Round- 10-9

Round 2- Frazier stalking Quarry and landing huge hooks to the body. Quarry boxing well, but still being caught by big hooks. Now they are trading wildly and Quarry is cut over his right eye, a familiar problem. Frazier looking good. Frazier's Round- 10-9 (19-19) Even

Round 3- Frazier still moving forward and bombing and landing with good shots. Frazier starting to land a little more effectively. They are fighting inside, a lot of action in this round. Frazier has Quarry a little staggered at the end of the third with a variety of hooks and body shots.
Frazier's Round- 10-9 (29-28) Frazier

Round 4- Frazier still pressing the action, Quarry trying to box him from the outside. Quarry is real puffy under both eyes. Quarry gets hit with a left, he's being battered against the ropes. Quarry smashed with a beautiful left hook, how does he still stand? With seconds left in the round a hard left to the body of Quarry. QUARRY GOES DOWN TO THE CANVAS. He rises at 6 in obvious pain.
Frazier's Round- 10-8 (39-36) Frazier

Round 5- Frazier trying to finish him. He's stalking forward, the crowd is roaring. Jabs and rights are landing, every shot is landing for Frazier. Joe Louis the referee is stepping in, the fight is over. Smokin Joe is victorious with a beautiful display of punching fireworks.Frazier-TKO 5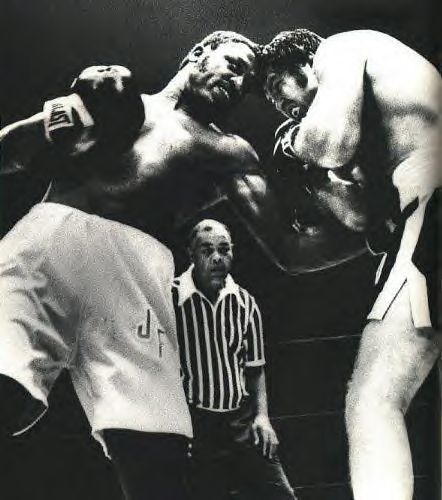 Joe Frazier just went through what ever damage Jerry could dish out and eventually wore Quarry down with an assortment of left hooks and vicious body shots. Quarry was just not able to get started in this fight, and went back to brawling at the first sign of trouble. Jerry Quarry could box, but usually chose to slug it out and that wouldn't work against Frazier. Joe Frazier was in line for another title shot and would get it against Muhammad Ali in a place called Manilla in the Philippines. Jerry Quarry was near the end of his career and would lose to Ken Norton soon after this fight.