Ali Vs Frazier-Mar 8th, 1971 N.Y
This was THE FIGHT. Two undefeated fighters who both thought they should have been recognized as the true champ. Muhammad Ali, back from exile and ready to reclaim what he thought was rightfully his and clinch his place in history as one of the best ever. Joe Frazier, the title holder, not fearful of Ali's antics and understanding he wouldn't be considered the real champion until he beat Ali. Madison Square Garden was the setting, there was no other place a fight like this could be. Joe Frazier was 26-0 with 23 Ko's. He was known for his incredible left hook and straight ahead attack. He had just beaten former Ali sparring partner Jimmy Ellis in a 4 round stoppage and then dismantled Light Heavyweight Champion Bob Foster in 2 rounds. Muhammad Ali sported a record of 31-0 with 26 knockouts. He had just beaten Jerry Quarry and Oscar Bonavena and this was only his third fight back after he was out of boxing for 3+ years. The stage was set for one of the best fights in the history of boxing.

Here's the fight as I saw it.-Green are the round scores as I scored it, red is important text like a cut, great punch or knockdown.

Round 1- Frazier bobbing and weaving his way in, Ali is firing fast shots but missing most of them. Ali is scoring well with hooks, not Ali's normal favorite punch. Frazier lands a nice left hook, a punch he is known for and Ali answers with jabs. Ali more busy and effective here early.
Ali's Round- 10-9

Round 2- Frazier comes out aggressively. Ali landing many jabs but is countered by a Frazier left hook and right. Great action so far. Ali lands a nice right and another to the chin. Frazier missing with a left hook. Ali is looking real fast so far, but Joe is always a slow starter. Frazier lands his first telling body shot and is answered by Ali jabs. Frazier finishes landing a good hook.
Ali's Round- 10-9 (20-18) Ali

Round 3- Frazier pours in and Ali is moving back. Ali lands a hook and an uppercut. Ali using his strong jab to keep Joe away from him so far. Frazier still not landing cleanly yet, he forces the pace and lands a big left hook, Ali is stunned for the first time. Ali's Round- 10-9 (30-27) Ali

Round 4- Frazier smoking and looking for the hook, Ali is landing more still to begin the round. Ali lands with jabs and short rights. Frazier starting to get closer now, pace slows for the first time in the fight the pace has been furious. Joe lands a nice left hook and another, the round has swayed back to even.
Even Round- 10-10 (40-37) Ali

Round 5- Frazier lands as Ali dances, Frazier landing better now then earlier in the fight. Ali comes back with nice jabs, Joe lands a big hook and is pouring again looking for a big shot. Ali lands well late to close the round well. Ali's Round- 10-9 (50-46) Ali

Round 6- Frazier punches well to the body, and stuns Ali to the head. Ali in a little trouble and is hit a lot. Frazier also landing to the body as Ali is against the ropes, best round of the fight so far for Joe Frazier.
Frazier's Round- 10-9 (59-56) Ali

Round 7- Frazier just pressing forward relentlessly. Ali is holding a lot now. Frazier landing most of the punches now. Ali comes back with some crisp shots of his own. Close fought round.
Frazier's Round- 10-9 (68-66) Ali

Between Rounds there are chants for Muhammad Ali from the crowd

Round 8- Frazier comes out real fast with Ali popping the jab. Frazier lands another big left hook and then a right. Frazier pouring it on against the ropes. Ali is taking the round off and not doing much at all.
Frazier's Round- 10-9 (77-76) Ali

Between Rounds there are chants for Joe Frazier from the crowd.

Round 9- Body shots from Frazier, Ali landing more this round then the previous couple. Pace slows this round, Ali landing well, Frazier lands a nice left hook and Ali holds on a little stunned. Ali comes back with hard rights to Frazier's jaw. Ali's Round- 10-9 (87-85) Ali

Round 10- Frazier comes out punishing the body of Ali. Ali lands a nice uppercut, Frazier lands continuously to the body. Frazier still pushing forward but Ali is landing well. Ali landing short straight to punches to incoming Frazier's head. Frazier lands another huge left hook to end the round.
Ali's Round- 10-9 (97-94) Ali

Round 11- Frazier with a big hook, Ali slips no knockdown. Frazier keeps coming forward. Good body shot from Smokin Joe. Big hook from Frazier to the chin of Ali, Ali is covering up in the corner not punching. Ali lands a nice right hand. Frazier lands a pulverizing left hook!!! Ali is almost down and reels and falls against the ropes, Frazier with another hook, Ali is close to falling again. What's keeping him on his feet. Incredible round. Frazier's Round- 10-8 (105-104) Ali

Round 12- Frazier pushing forward and Ali is holding a lot. Frazier is still landing and is scoring and lands another left hook. Frazier digging to the mid-section and Ali is very wild and missing this round.
Frazier's Round- 10-9 (114-114) even

Round 13- Ali comes out jabbing fast and hits Frazier with some nice punches. Both fighters faces are swelled up and Frazier has a big bulge near his cheek. Frazier has slowed a lot this round and is caught by another punch from Ali. Frazier lands another huge hook. They are going toe-to-toe and Frazier is getting the better of it and hurting Ali. Continuos trading and Ali is wobbled near the end of the round. Best action round of the fight. Frazier's Round- 10-9 (124-123) Frazier

Round 14- Joe is still moving forward and landing. Ali is holding a lot on the inside to stay away from Joe's hook. Ali lands some nice shots to Frazier's head. Body shot from Frazier as the pace slows for the first time in many rounds. Ali landing well from the outside, Joe lands well from the inside. Ali doing better this round then the previous ones. Ali's Round- 10-9 (133-133) even

Round 15- Ali comes out fast this round. Ali tries to hold Joe on the inside. Joe fires a hook as Ali is in the corner, ALI IS DOWN, MUHAMMAD ALI IS DOWN. An incredible left hook form Frazier has sent Muahmmad Ali to the canvas. Ali rises at 3 and they continue. Frazier going all out and digging shots to the body of Ali. Frazier trying for the knockout. Another big hook from Frazier and Ali is completely out on his feet. Frazier with an incredible 15th round display.
Frazier's Round- 10-8 (143-141) Frazier is my decision.

Official Decision- 8-6-1 Frazier
9-6 Frazier
11-4 Frazier Joe Frazier wins by Unanimous Decision
Frazier-U Dec 15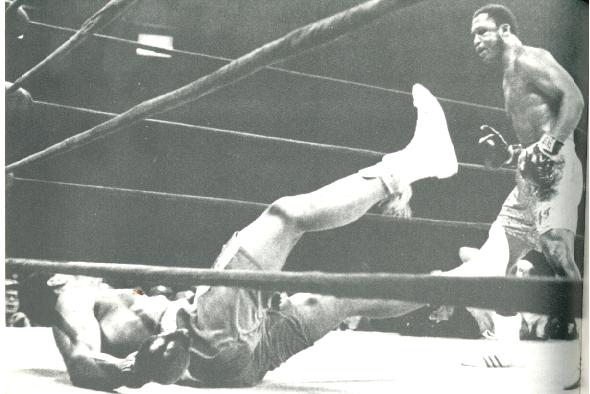 Looking back on the fight it was clear that Joe Frazier had won it. I went back to my score card and realized in rounds I had the fight 7-7-1. Muhammad Ali won those 7 rounds I really believe, but Joe Frazier had two clear 10-8 rounds to give him the decision. The judge that had the fight 11-4 must have been one of the 32 or whatever guys that had a stake in Joe Frazier because Ali had won 5 or 6 rounds clearly and others were very close. Regardless, Joe Frazier proved to the world who the real champion was and was being called one of the greatest himself. Muhammad Ali would rebuild himself and go on a winning streak and eventually even though losing once getting a chance at the title and earning his place in history. Joe Frazier was on the top of the mountain, looked unbeatable and iron chinned. Those theories would all be tested in the near future as Joe Frazier would have many battles coming his way.