Ali Vs Shavers-Sept 29th, 1977 N.Y
Muhammad Ali was in the midst of his second title reign when he took on the power punching Shavers. Muhammad had won 13 straight fights including 8 straight title defenses. He had last beaten challengers Richard Dunn, Ken Norton in a disputed decision and Alfredo Evangelista. Ali had a record of 55-2 going into this bout. Shavers was getting his first title shot, he had come off 5 straight wins against mediocre competition. He had beaten Henry Clark twice and Howard Smith to get his title shot. Shavers was always dangerous and came into this fight with a record of 54-5-1 with 52 KO's. Muhammad would have to stay away from the power, let's see if he was successful.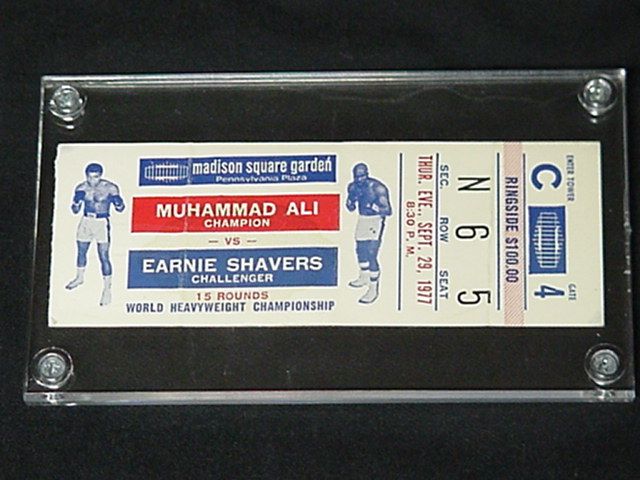 Here's the fight as I saw it.-Green are the round scores as I scored it, red is important text like a cut, great punch or knockdown.

Round 1- Ali comes out using his quick jab. Ali is circling the ring and moving away, a Shavers right glances Ali's jaw, but Shavers is unable to get close enough this round.
Ali's Round- 10-9

Round 2- Ali flurrying to Shavers head, but missing most of his punches. Ali is shaken by a Shavers right, and acts like it doesn't hurt, but he was wobbled. Shavers hit Ali with a nice right and follows with a good left and another right. Shavers Round- 10-9 (19-19) even

Round 3- Ali comes out circling, Shavers misses with a big right. Shavers lands a glancing blow, Shavers with a left. Ali not doing much. The action was very slow this round, Ali is wary of Shavers power.
Even Round- 10-10 (29-29) even

Round 4- Shavers lands well with a right, Ali not doing much again. Good jab from Shavers, followed by a huge right from Shavers. Shavers with another big right ends the round. Ali is shaken.
Shavers Round- 10-9 (39-38) Shavers

Round 5- Ali on his bicycle again and jabbing well. Ali winning the round with the use of his jab and straight rights. Shavers not able to get close enough to land any of his shots this round.
Ali's Round- 10-9 (48-48) even

Round 6- Shavers opens with a good shot to Ali's body. Not much action this round as the pace really slows down. Both fighters are trying to conserve energy. Shavers has Ali against the ropes and is landing pretty well to end the round. Shavers Round- 10-9 (58-57) Shavers

Round 7- Shavers with a huge right buckles Ali's legs. Earnie lands another right hand. Shavers lands a jab then a right. Ali turns Shavers and opens up on him against the ropes. Ali is trying to steal the round. Shavers ends the round with a good body shot. Even Round- 10-10 (68-67) Shavers

Round 8- Shavers lands pitty pat punches as Ali covers up. Ali not throwing many punches, he tries to throw a flurry but stops quickly. Shavers much busier this round, though teeing blows were landed.
Shavers Round- 10-9 (78-76) Shavers

Round 9- Shavers throwing short little punches and controlling the action. Shavers lands a right, and Ali counters with a mini flurry that does little damage. Ali did nothing this round except throw one combination that makes it an even round because Shavers wasn't real busy either.
Even Round- 10-10 (88-86) Shavers

Round 10- Shavers with a good right to Ali's head, Ali is on his bicycle, and is countering well while moving back. Shavers lands a good right but is taking more then he is giving this round. Ali lands another good left. Ali's Round- 10-9 (97-96) Shavers

Round 11- Ali lands a little right hand and Shavers counters with one. Shavers pressing forward and lands a couple punches. Ali comes back with a good last 30 seconds to pull him out the round.
Ali's Round- 10-9 (106-106) even

Round 12- Ali flicking his jab and moving well, Shavers seems to be slowing down. The two fighters exchange blows in the center of the ring. Shavers with a nice right and Ali counters with a good combination. Ali's Round- 10-9 (116-115) Ali

Round 13- Shavers with a colossal right to Ali's jaw. Ali trying to move away fast. Shavers lands another right and then another while Ali tries to move away. Ali is stunned a little from that first right hand. Shavers is effective this round. Shavers Round 10-9 (125-125) even

Round 14- Shavers bulling forward, Ali is moving back still but jabbing well. Shavers pushing forward well this round and landing great shots. Huge rights from Shavers and Ali is really hurt and trying to hold. Shavers is going for broke. Shavers 10-9 (135-134) Shavers

Round 15- Shavers comes out of his corner in a rush and lands another right and rocks Ali. Ali is trying to fight back but is till getting hit. Ali lands a punishing sneaky straight right and Shavers is hurt real bad. Ali is moving forward trying to finish it, great action. The bell rings saving Shavers who was close to going down. Ali 10-9 (144-144) A Draw is my Decision.

Judges Decision in rounds- 9-6 Ali
9-6 Ali
9-5-1 Ali unanimous decision Muhammad Ali.
Ali-U Dec 12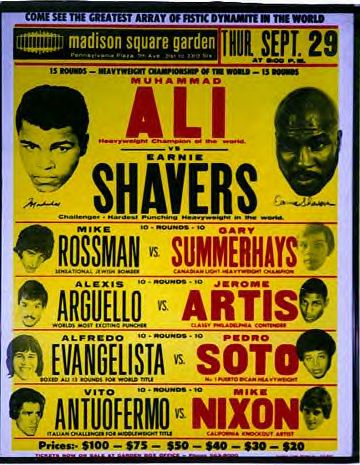 This decision was very strange to me. Shavers clearly won 5 or 6 rounds and that means the judges gave every close round to Ali. This really shouldn't surprise me though because by this time in his career he was given those rounds before the fight. Shavers really could have gotten this decision, and the crowd booed when the scoring was finished. Earnie Shavers would have another title shot later in his career and also would have a couple more super fights. Muhammad Ali was near the end of his career and would lose his next fight to Olympic Champion Leon Spinks before getting it back in a marvelous performance. This was in all reality the end of the indestructible Ali.